When I hear someone I know is now selling for a multi-level marketing business I'm pretty much all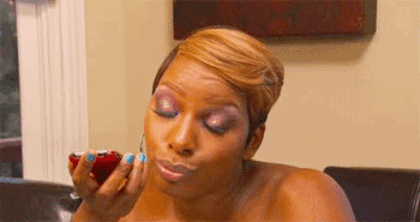 Let's see, the last time I felt like spending $15 on a lipstick was....never. No thanks Mary Kay.
All jewelry can be lumped into together into one over-priced group. One party I went to, which you are pretty much obligated to buy something or risk looking like a rude asshole, I figured I'd buy the cheapest thing so I'd look like a team player. God's honest truth the cheapest thing I could find was a $50 necklace that had a ribbon tie instead of a metal clasp. Did you hear me? It didn't even have a fucking clasp and it was $50. Sure I like the piece and I get a decent amount of compliments, but damn there is no way this thing is worth that amount of money.
Anyway, onto the recipe. A savory blend of peppers, onions, and chicken in tomato sauce served over rice.
-1 red bell pepper
-1 green bell pepper
-1 white onion
-1 chicken breast, butterflied
-1 15oz can tomato sauce
-garlic power, onion powder, salt and pepper
1. Cut the peppers and onions into strips and saute over medium heat for about 15 minutes. Season with dashes of salt and garlic powder.
2. In another pan over medium heat, cook the chicken breast 6-7 minutes per side, seasoning with onion powder, garlic powder, salt and pepper. Once cooked, cut into strips.
3. Pour the tomato sauce into the pan that the chicken was cooked in. Stir in the peppers and onions and chicken, simmer for about 15 minutes. Serve over rice.
Source:
The Savvy Kitchen